We B-Girls...Hear Us Roar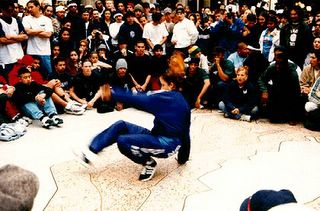 A B-Girl Rocking a Crowd (just a sample)...>
YO! YO! Yo, check it out, the above photo is not from tonight's festivities, but I wanted to capture the movement, the artistry, the B-Girlisms, and the awe of the crowd in an image for ya'll because I can't rest until I blog about today's and tonight's events.
Big ups to the folks at
Moxie Salon
, who selflessly donated their time, energy, skills and $ - donating $30 for each haircut all day today to B-Girl Be. The most incredible, elegant, and talented
Desdamona
, Sarah White (and her sweet, beautiful daughter), B-Girl Seoul who all rocked during the day; plus the myriad of women who repped onstage including Pavi Elle, DJ Jen, and so many more. Not to mention
DeAnna Cummings from Juxtaposition Arts
, who DID HER THING curating the gallery exhibition and bringing in awe-inspiring artwork from South Africa, Germany, Puerto Rico, Kansas City, Phoenix, Switzerland, and of course the Twin Cities of Minneapolis/St. Paul.
We had an amazing crowd at
Intermedia Arts
- men, women, children, babies, mothers, grandmothers - everyone having a good time. Gotta shout out the God,
I Self Divine
, and his beautiful Wife & Sun; his family was most definitely in the house and his son is a young B-Boy in his own right who took over the floor after
B-Girl Seoul
rocked. I have to give the most sincere thanks to the DJ,
Stage One
, who for not a lot of dough (shit, it's a fundraiser people) came out with ALL his equipment - tables, speakers, mixer, cables, crates, the whole nine - and ripped shit not only at the Gallery but at the
La Bodega
afterparty. Yo, on the strength, tonight a DJ saved my life. Stage dropped crazy dope joints that I ain't even expect to hear, plus he loaned his tables to the DJ Lady Luca, a dope female DJ who was most definitely in the house. Luca played all my favorite old-school funk classics. It was so serrrrious I had to take a break from taking money at the door slash checking IDs to jump up and break for a few minutes!
The brother of one of the ladies who rocked at La Bodega (sorry I don't know her name!) came up to me & Desdamona during the afterparty, stopped, shook our hands, and was like "Man, thank you, thank you guys man, women in
Hip Hop
, I love this, I love all these women in hip hop, I didn't know this was here like this, man, thank you. That's my sister up there, that's my sister. Thank you." Even that alone was enough.
Rachel's
video installation had heads checking so serrrious, EVERY man and boy in the spot was like, "who's that woman", "what song is that she's singing", "who's that female rhyming there", "can I buy an album from that woman", "where can I find out more about her"... YES!! YES! That's what the fuck I'm talkin about!! THANK YOU for appreciating the immense and irreversible beauty of who we are and what we do! Just to get some acknowledgment, it makes a difference.
And that's what it is. It feels different, somehow. Because, today, things are different. I don't know how much funds we raised, but I do know this. We raised the roof. We raised the dead. We raised people's consciousness. We raised awareness. Everyone who walked into Moxie, Intermedia Arts, or La Bodega learned something today - about Hip Hop, about women, and about themselves. The team behind B-Girl Be IS Hip Hop. We ARE feminism. Not the Hip Hop you read about in magazines. Not the
feminism
, they're studying in the universities. When we say we're "on the ground," we really mean that shit. Rachel is on the ground, aiming her video camera up to catch the perfect shot. B-Girl Seoul is on the ground, spinning on her back, shoulders, arms and head. I'm on the ground, kneeling down to show two little girls named Tiana and Nesra how I do my graffiti handstyle and my ghetto flowers.
They said Hip Hop was dead. They said females are bitches. They said women are hoes. They said it couldn't be done. They said we couldn't get along. That jealousy or envy would stop us in our tracks. That we weren't capable of thinking for ourselves. That we were wishy-washy and couldn't make our own decisions. That we were weak. That we are just here to make babies, or to be seen and not heard.
We said, fuck them. We said, we're going to do a two-month long celebration for, by and about women in Hip Hop culture. We decided to deconstruct their misogyny, stereotypes, and false negativity; and to reconstruct them into something positive for young women (and young men) to begin to build a foundation on, so that they may have a future. We said, we can do this. Then we said nothing at all. 'Cause we said it, we meant it, and we here to represent it. This is not that bullshit. This is not some theoretical hypothetical pie-in-the-sky ten-year plan.
We did this TODAY. It had to be this way. Everyone has a mother. Respect that. Respect that today is
Earth Day
. There are no coincidences. Keep an eye out, and an ear to the street, for what's about to unfold. It'll be the end of Hip Hop as you know it, 'cause starting today, we B-Girls are taking it back. And if anyone don't like it, they can step up front...we can battle for it, all skills to the table. Step up front, 'cause anyone who tries to stop this movement will get bumrushed by a team of bad, beautiful B-Girls; battled; and broken down to their very last compound. That's no threat...it's a promise.
Happy Earth Day,
1 B-Girl in a Million