100% Pure Fuckery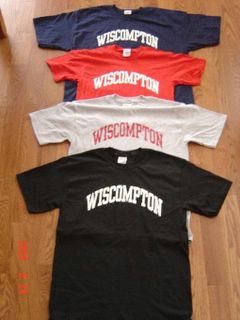 I Wish I'd Never Heard of "Wiscompton"...>
Hmmm. How to say. Went to a show last night at a local spot "The Dinkytowner". Minneapolis is a college town, I guess would be the excuse. My homegirl
Desdamona
did a fine set, with a live band backing her. DJ was cool except he played too much mf doom for my taste (note that any doom records played = too many). Some crazy punk/Hip Hop hybrid band played first, they were good, lead rapper rocked, lead singer rapped sometimes but sang just like Justin Timberlake. Not as bad as it sounds. Seriously.
So, the bad part. It all started when I looked behind me and saw some trucker hats (always a bad sign) on the table. Then t-shirts. They read "wiscompton". I was apalled. I was disgusted. I was mortified. I was unmoved. I was unsurprised. I was disgusted. Definitely disgusted. Have you ever been to Madison, Wisconsin? It's decidedly NOT just like Compton. I hated the group performing who I guess also own the wiscompton merch. It's the kind of thing where you have to put up a photo and a complaint on your blog about it, but you'd never give them any pub by mentioning their name. Which I don't remember anyway, If I ever knew last night. One thing about not drinking or smoking, when you used to smoke and drink a lot...it makes a bad rapper even more glaringly wack sober than he may or may not be if you were high. Or at least mellow.
So yeah, wiscompton bad. Not bad meaning good. Just bad.
XO,
MJ