SHOCK G...Retired? Or Just Tired?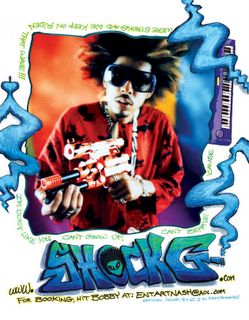 Shock G Will Bust @ U With His Bop Gun...Believe That.
First of all, I highly respect Shock G because of his scientific intelligence, and his pure musical genius. He's truly a legend in the game, and a true musician and artist who can play keyboards and instruments with the best of them. I remember when he was living temporarily in New York, off of East Broadway, working on a film called Fishes Outta Water co-starring Saafir and Fat Joe (sounded like a great m'fucken flick to me, Hollywood, where the fuck is it @ tho??!!). I ran into him walking down the side street and we were both like, "hey, what are YOU doing here" and then "hey, I LIVE here".
He was HOT 'cause at that time a lot of street vendors, ahem let me clear my throat, BOOTLEGGERS were selling hot 'Pac CDs and he literally went up and down the streets and flipped peoples tables, blankets, booths, and what have you over onto the sidewalks of NY. Mind U he's a very tall man, and though incredibly warm and friendly, not nothin nice when provoked. The Bay Area, once again, touches the Universe. Had it not been for Shock G, and Digital Underground, the world might never have known the rap genius of Tupac Amaru Shakur. Mystic would have relegated her singing to the shower, true story, if Shock G hadn't brought out the vocalist in her. And, of course, the world would hardly be the same without the comedic stylings of Humpty Hump. (And yes, you dumb-ass bastards, Shock G and Humpty Hump = the same person; and if you're still asking that old-ass ? you are BURNT).
So imagine my surprise when through the homegirl Monalisa (Happy Birthday) via
www.thuglifearmy.com
, I read the following statement from G. He'll be sorely missed in the game, however, I FEEL HIM!!!
"I'm retiring from all forms of studio work and song writing.

My reasons for retiring are:
1. I get no satisfaction or fullfillment from it anymore. It doesn't make me happy. On the contrary, it depresses me. Normally I'm not depressed, it's only surrounding the studio. I'm happy when I'm away from the studio.

2. Can't make a living at it. 90% of the studio work I've done in the last 6 years has all been either for free or for peanuts, and hasn't generated any income since.

3. It drives me to do drugs, cause I HATE BEING IN THE STUDIO. To much pressure & expectation for me to make/save/spark someone elses career or project.

4. I quit the studio. Fuck the studio.

5. I can't win in the studio, It's pointless, it's a "catch 22" for me, watch:
If what I do sucks, it tarnishes the legacy, hurts the family, and even lowers the price, and also leaves the artists & involved-companies unhappy; But if what I do shines, it generates more studio work for the future, and furthur traps me in the music business, a business I have no intention of slaving to the rest of my life. I gave it 20 years. I'm done.

6. Every man has the right to the pursuit of happiness and should first try a job that he might gain happiness & fullfillment from. This doesn't make me happy anymore, it makes me miserable and a drug addict.

7. I'm done widdit. Whew!
YES, it already feels great already just to say it!!!


I most likely will try my hand at some of these:
> writing (Afeni assures me this is my true calling everytime she see's me. Maybe she's right?)

> acting

> stage performing, meaning accepting tours or positions in other bands doing keys & background vocals. (IF it's real and if the moneys good. No amatuer or free stuff anymore.)

> regular jobs in service (like clubs, hotels, TV show bands or staff, resturants, who knows?)

> ..and of course still do digital tours cause it PAYS and people don't expect me & Mon (grown men) to work for free, like all the studio requests. I'm 42 and have wants/needs/bills/responsibilities.

So there it is, spread the word, I quit.
I don't make beats, I don't do vocals, I don't write vocals, NONE OF IT.

Those of you who are friends, will be happy for me. Happy that I shook something that was making me miserable.

Those of you who had plans to "use" or manipulate me at the expense of my own health & happiness, will be upset about this. All I can say to those would be, you're free to do whatever you wish, and so am I.

I choose to QUIT.

there it is.
Thanx everybody, spread the word
shock"