READ THE CLASSICS, VOL. 1 - K.M.D.'s Black Bastards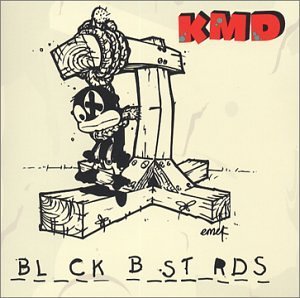 The classic unreleased 90's LP, (re)released circa 2000...>
Originally published in STRESS, NY's Illest Magazine, Issue 25
REWIND
KMD - BLACK BASTARDS
by Miranda Jane

"The first joint I appeared on was Gas Face, with a group called Third Bass, back in 1989. I remember that like it was yesterday. I did a verse on that song, and came up with the concept. It was good exposure, so it was Peace," explains Zev Love X of the infamous K.M.D.

As far back as many heads today can remember in their personal Hip Hop experience, there has been K.M.D. In the early days of groups that made it, such as Brand Nubian, and groups that didn't, like the UMCs, K.M.D. stands out as one of the most memorable of the early nineties. Those years were some of the first where rap and Hip Hop videos were widely viewed on shows like Yo! MTV Raps and BET's Rap City. In 1991, we watched "The Gas Face" and "Peachfuzz" over and over again, soaking up K.M.D.'s brand of humorous yet conscious Hip Hop. Although Prince Paul is often credited as the father of a style, it was K.M.D.'s use of samples from television and movies, and of carrying skits through an entire album that paved the way for The RZA and many others who utilize this format today.

Following the release of K.M.D.'s Mr. Hood with a string of succesful guest appearances elsewhere, everything was going well for Zev Love. Then the weight on his shoulders grew heavy, as he suffered from the music business trauma that hit him with a one-two punch. First, the untimely death of his physical brother Subroc (PBUH) and second, the decision by Elektra Records that the cover art of the album Black Bastards was too controversial for release. K.M.D. was subsequently dropped from Elektra Records in 1995.

Today, K.M.D. remains somewhat of an enigma to many - what exactly is Kausin Much Damage? "K.M.D. is whatever you feel," explains an older Zev Love X whose modern-day attribue is MF Doom. Metal Face, Mother Fucken, Mad Flowin, Microphone Fiend. In real life, Doom assumes many characters and identities throughout the day. Historically, Doom is a Hip Hop legend but many people don't realize that he is also Zev Love X of K.M.D. So who exactly is MF Doom? "Doom is really a description of myself, more personally. Of course, it is still a character, people gotta keep that in mind. Doom is part of me."

The year 2000 finds Doom with an underground sleeper hit in the form of Operation Doomsday (1999). And K.M.D. is alive and well - Black Bastards will finally be released this year on vinyl and CD. "Black Bastards, we came up with in 1992, right after we did the Mr. Hood album," explains Doom. "Black Bastards was me and Subroc. On the Mr. Hood album, K.M.D. was myself, Onyx the Birthstone Kid, and Subroc. On the new K.M.D. album it is me and my partner, (MF) Grimm."
(**Editor's note - After Grimm's incarceration and the discontinuation of his business relationship with Doom after his release, a "new" K.M.D. project was recorded with Lil Sci and I.D. of Scienz of Life, along with Doom. I have not heard of a release date for this album, and I'm unaware of whether or not it was ever completed).

No matter what K.M.D. does in the present or future, all of the efforts are dedicated to Subroc. "He went back to the essence. God bless, in a car accident, in 1993. I feel him in my heart, like he's still right here. I can't touch him, but I can feel him." Subroc lives on through Black Bastards, the first single being Subroc's solo joint "It Sounded Like a Rock" b/w "Stop Smoking That Shit" which features Lord Sear and Kurious Jorge. For Doom, Subroc's work from 1991 and 1992 still holds water in today's rap game, "Subroc, he was a great producer and an ill MC. If you check the rhymes on the Black Bastards album, he got two joints on there that's retarded! Right now, from '92, he'd be eatin mad niggas."

Operation Doomsday is a clear indication of Doom's ability to produce and record cutting-edge Hip Hop music. "I always wanted to do something solo. I thought about doing the MF Doom album when we were making Black Bastards. Everything was self-produced, the music, even the artwork.

(** Editors note - In fact, much of the artwork made famous by Doom, as well as his metal mask, are the work of Graffiti legend LORD SCOTCH 79th (X-MEN) who was King of many train lines in the early days of Graffiti and responsible for many of the dopest Hip Hop album covers and advertisements of the 90s and 00s.)



K.M.D. have remained independent. Doom is currently adding on to the roster of his own imprint, MetalFace Records, which includes K.M.D., MF Doom,
MF Grimm
, Kurious Jorge, and the
M.I.C.
(Monsta Island Czars).

(** Editor's note - After releasing Grimm's critically-acclaimed LP, The Downfall of Iblys through MetalFace, as well as the Monsta Island Czars' first LP, Escape from Monsta Island, Doom no longer holds dominion over the music of Grimm, the M.I.C., nor Kurious. They're all a part of Grimm's company,
Day by Day Entertainment
,

which is also an independent distributor of Hip Hop and Rock music.)

Doom continues to work with all sorts of independent labels, both in the U.S. and abroad (MF Doom is more well known in countries like Australia, the UK, and Japan than in America). Black Bastards is coming to us from MetalFace/Readyrock Records, and both Doom and Grimm have upcoming singles on Brick/Landspeed Records. We can look forward to a second MF Doom creation in the near future, as well as a new album from K.M.D.

The addition of MF Grimm to the K.M.D. equation should equal lyrics of fury as Grimm is a seasoned battle rhymer who made it to the final round of the 1995 Battle for World Supremacy. Grimm was also featured on Kurious Jorge's A Constipated Monkey album, as well as Kool G. Rap's 4,5,6 LP. Paralyzed, blind and deaf from two attempts on his life, MF Grimm has shown and proven his sheer strength and tenacity by regaining his sight, hearing, and the use of his upper body. Although he currently rhymes from a wheelchair, the prognosis is good that he will stand and walk again soon. K.M.D. is an ever-metamorphasizing Hip Hop group proven to stand the tests of time and adversity. MF Doom will survive and beat the odds every time, because he has the unique ability to recreate himself during times of chaos, continuing to manifest Peace.
- Miranda Jane, 2000
Doom if you're still with us, come back to your family. You know who we are. Grimm, you've already exceeded the vision for Day by Day, and it's just begun. Love is Love.