BIEN COMIDA(S)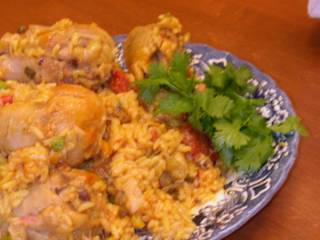 Arroz con Pollo...> It's What's for Dinner
In the middle of editing this huge, extensive, multi-faceted feature I'm almost done with (I swear) with the exception of inserting tomorrow's interview with the Dipset King, Mr. Jim Jones; I've been to the grocery store. And I'm just bugging off the difference between making Arroz con Pollo in New York and making it here in Southern California, a/k/a lil' Mexico.
The vegetables are pretty much the same, I can find sweet Vidalia onions, red and green sweet bell peppers, and jalapeno peppers in either place. Chicken, of course, that part is easy. Rice, arroz, pretty much the same, not a problem, no hay problemas con arroz.
Now where's the flavors switch up. I'm in the "international foods" aisle (in this area, San Gabriel, the foods in that aisle should really be everywhere in the grocery store 'cause it's nothing but Asians, Mexicans, Guatemalans, El Salvadorans, etc. here anyway) and it ain't no Goya in sight. NO HAY GOYA. Ai dios mio. So, no sofrito. Instead, busted a move with some Herdez salsa, and a can of Chipotles en Adobo. Add that to some dried oregano, Emeril's essence, Tony Chirone's Creole Seasoning, lime juice, 10 cloves of crushed garlic, and a box of chicken broth courtesy of Swanson's; and we're in bi'ness.
I can't eat this, it's not vegetarian, but my best friend's Esposo, Big H, is over here grubbin up on it. Them Chipotles is kickin' fo sho, he just said "I'm glad I ain't put no hot sauce on this though!" So I guess it's kinda spicy, but he's from the 'hood so it's never too spicy, right? "Whoo, Miranda, you got me over here sweatin'!" Hilarious.
The secret is to saute the chicken in the garlic, oil and a little (did I say a little, I meant a stick) of butter. Then place the chicken in a large baking pan and hook up the vegetables in the garlic-butter-oil til "translucent". Then throw the rice and spice in there, saute that up, mix in the adobo, salsa, and stock; then stir and boil. Then I pour that whole ensemble over the chicken, cover the pan with foil, and bake at 325 for about 25 minutes or until the rice is tender. A little fresh cilantro chopped and sprinkled on top does it justice, apparently.
Then the doorbell rang, with UPS leaving a package containing
Ms. Danyel Smith's
novel, BLISS. I know what I'm reading tonight! Besides my draft-cum-feature. Almost done, I swear. I SWEAR.
Love is Love,
Business is Business,
Mira, ja Una
La Sirena y Jornalista