Woe, Woe, Whoa @ The Source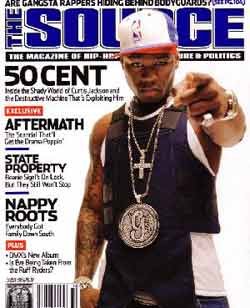 Well, damn, Fiddy's lookin so sexy nowadays I'm kinda hatin' on the groupies-with-pens who got to visit the candy shop and/or get beat with the magic stick...hmmmmmm...
TO: ALL HIP HOP MASSIVE
FROM: MJ
RE: THE SOURCE
Your girl is NOT going to speak on it, tweak on it, or spend a week on it. But she IS gonna give U some of the highlights…>

First off, on the biz side, from http://www.mediaweek.com/mw/news/print/article_display.jsp?vnu_content_id=1000846556, "...the title has for several years failed to report its publisher's circulation estimates on time to the Audit Bureau of Circulations. Founding CEO David Mays attributed the tardiness to management changes in his circ department, as well as records having been destroyed when the magazine moved offices late last year."

And furthermore, courtesy of http://kevinrscott.typepad.com/daily/2005/03/relaunching_the.html, "It seems the problem is The Source has been losing ground. It's newsstand sales are down, it's overall readership is down (from 500,000 to 430,000) and yet titles like Vibe has grown it's readership to over 860,000 (largely under Emil's reign) and has seen a 10% jump in advertising, snagging heavyweights like D&G, DKNY & Prada and yet both magazines feed the need of similar demographics. And if that wasn't enough, editor in chief, Kim Osorio left and was replaced by former deputy editor Fayhim Ratcliffe." Shouts to the homie Fahiym, Love is Love, regardless to whom or what. That's my folks, and he's an excellent writer, a gifted editor, and a former student of Dr. Malachi Z. York. Can't nobody tell MJ nothin' bout no Fahiym.

Back to the business at hand, please note this revealing tidbit gleaned from the ePages of http://www.hiphopmusic.com/archives/000908.html, "Another unpaid writer: "[I'm owed] over $3000 for invoices that are 3 months to a year old. I got a check from them in December 2003 that bounced and it took them months to repay me for the bounced check. I've contacted nearly a dozen people about payment, and most of them have since quit or been laid off. I heard they're down to about 15 employees," the writer told SOHH.com exclusively. "I know of an editor that quit because he didn't get paid," the writer revealed. "It's only a matter of time until they file bankruptcy.""

We've always got to keep our ear to the streets, and hear from the people. So without further ado, from the peanut gallery, a comment from http://www.lynnedjohnson.com/diary/000490.html "i have successfully resisted buying the source for 4 months. i allowed my subscription to expire after seeing my beloved hip hop magazine turn into benzino's personal eminem hater guide. and then that ignorant drama about the "original" hip hop writers for the source pushed me over the edge."

Can't get http://www.sohh.com/ and their Source story to load, however here's a little ditty from the blogs @ sohh, http://blogs.sohh.com/mr_irreverent/archives/2005/03/fly_the_hiphop.html...

"Fly The Hip-Hop Friendly Skies With Dave Mays

Dave Mays is really stretching the boundaries of Hip-Hop too far. In an article at Media Week, the co-owner of The Source said:

"For anyone who's 18 to 34, almost everything they do is determined by hip-hop, from what airline they fly to what food they eat..."

Now I may not want to use the airline that Aaliyah used, but I damn sure ain't flying based on what airline Memphis Bleek is using.

SOHH, you tell me, what airlines have you flown because of Hip-Hop?"

A must-read from http://www.qsviews.com/ (sorry Q couldn't get a link to come up), entitled "Issues at The Source"

"Issues at The Source

Apparently there's some issues at The Source... peep this nugget from http://www.wwd.com/:

LONG WEEKEND: The steady trickle of employees out the door at The Source built to a torrent on Friday as staffers staged a walkout to protest not getting their paychecks. Managing editor Adila Francis, features editor Jerry L. Barrow, associate editor Thomas Golianopoulos and production manager Derrick Johnson were among those who left around lunchtime, according to a source with ties to the magazine. Staffers were told the delay in their direct deposits was caused by the company's recent change of banks, and that they would be paid Monday. It was unclear as of Monday afternoon whether that happened, and whether all the employees who walked out returned to their jobs. No one from the magazine returned calls.

David Mays, The Source's chief executive officer, was not on hand to finesse the situation, as he was in the Dominican Republic on Friday attending the taping of co-founder Raymond "Benzino" Scott's new music video, according to the source. Predictably, this did not go over well with disgruntled Source employees. "With the kind of money problems they have, they should be shooting his video in Washington Heights," quipped another insider. — J.B.

I remember a time that being a writer for The Source was the pinnacle for a hip-hop writer's career. Folks aren't even trying to give them even a shout nowadays. I see more credible hip-hop stories in Rolling Stone, Entertainment Weekly and now apparently CNN. And folks want me to hit up The Source? Give me NY Times, Denver Post, LA Times, heck even MTV before I come crawling to The Source..."

And finally, for any outsiders or folks who never worked for The Source, don't have any relatives who ever worked for The Source, or don't know what The Source is, a more O.G. and comprehensive entry at http://www.hiphopmusic.com/archives/000334.html will get you right up to speed.

Audi 5000, G.